Toyota 4AGE 4AGZE & 4AGTE Engine Parts & Accessories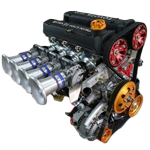 In this section you can find our range of engine parts & custom made accessories for the Toyota 4AGE, 4AGZE & 4AGTE motors you can buy. The custom accessories offered are made here in Australia by LouDen Motorsport, such as the GZE coil on plug plates, fuel pressure regulator mounts & cam cover plates.
We also plan to stock some genuine Toyota parts such as pistons, full engine gasket kits, oil & water pumps etc. There is an ever increasing amount of counterfeit parts being sold as genuine online, we thought it would be nice to offer 4A owners a reliable on-shore supply of genuine Toyota parts at decent prices.
We here have a soft spot for the good old 4A motors, being owners of various cars over the years with these motors. So if you have any 4A related questions, feel free to contact us anytime, would be happy to help with your enquiry.
Showing 1 to 1 of 1 (1 Pages)