| File | Size | |
| --- | --- | --- |
| JRP-Edge-52mm-AFR-Gauge-Manual.pdf | 835.94KB | Manuals |
| Spartan-3-Lite-Manual.pdf | 334.16KB | Manuals |
This is our most popular wideband gauge kit, it's a single kit made up of one Spartan 3 Lite wideband controller, our Edge 52mm 10-Colour LCD air fuel ratio gauge which can display AFR & also Lambda. There is the choice between three types of 02 sensors when ordering as well, our JRP LSU 4.9, Bosch LSU 4.9 or the 14point7 LSU ADV, we go into detail below about the differences in the sensors to help you choose which will be best for your application. This kit is what you will need to measure air fuel ratios on your performance car or motorcycle be it fuel injected or carburettor. They are used in applications where all exhaust ports from the motor merge into a single runner, so straight 4-cylinder, 6-cylinder motors for example. If you have a v6 or v8 we have dual kits available which you find by clicking here, but it is possible to use these kits on a V motor if you are only worried about checking AFR's on one bank of cylinders or are running a single feed carburettor.
The Spartan 3 Lite is the very latest wideband controller from 14point7, it was released in 2021 and has had some significant improvements to it's design and overall performance. They are amongst the fastest responding wideband gauges in the world today, now utilizing a dual power design for increased stability & accuracy, the wideband controller itself now uses a powerful ARM Cortex M4 microcontroller. There are many reasons why choosing the Spartan 3 Lite as your wideband solution will give you plenty of advantages over choosing an older design wideband product, if you want the latest in wideband controller technology, from a company that has been making some of the best wideband products on the market for over a decade, you really can't go past the Spartan 3 Lite.
The JRP Edge 52mm LCD air fuel ratio gauge that is bundled with this kit is simply stunning, well illuminated, high quality production and is the perfect companion to the Spartan 3 Lite wideband controller. These gauges have the option to switch the readout type between 10 to 20 AFR or 0.68 to 1.36 Lambda. Having the option to view Lambda instead of AFR is great for those running flex fuel & alternative fuels such as e85, most tuners these days use Lambda for their tuning and is great to have this as an option on your wideband gauge package.
If you are looking for not only a quality wideband gauge package, but a reasonably priced one as well then look no further, as these are it. 14point7 make some of the absolute best wideband products in the world and is why we are proud official distributors for them here in Australia, they are tough and reliable, incredibly accurate and all round just terrific little widebands. On top of this, they manage to do it keeping the cost of their products at extremely reasonable prices, no big name taxes here, simply good down to earth wideband products. Below you can find a bunch more info on what makes these a terrific wideband gauge kit, any questions feel free to contact us anytime.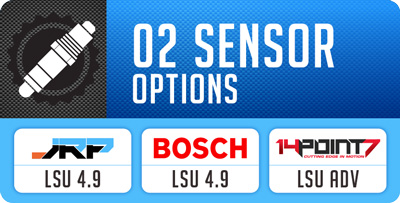 JRP LSU 4.9 02 Sensor
The first 02 sensor option we have to choose from is our JRP 4.9 LSU 02 sensor, these are the sensor that come with the kits as standard at no extra cost to the base price. Since we started JRP to a large degree we have been in the sensors business, our multi gauge systems rely on the sensors being accurate, reliable & durable, so we have a great deal of experience in this area. After years of selling 14point7's wideband products we decided to produce & supply our own high quality 4.9 02 sensors that could live up to the Bosch 4.9's, offering an alternative to the Bosch sensors at a reduced cost. Everyone has a budget, so we can now offer customers a 02 sensor at a reduced cost knowing they are in line with the quality, accuracy & durability of the Bosch 4.9.
The development of these sensors consisted of us having 14point7 run lab gas tests on the sensors for accuracy, sending samples to Dyno shops to get a thrashing, where they were run in parallel with high end dyno widebands to check for accuracy & durability, along with being used as their primary sensor for tuning customers cars. Then real world testing where we have had them installed into daily driven performance vehicles for the past 2-years, and the results of all these tests was that our JRP LSU 4.9 sensors are a lower cost equivalent to the Bosch 4.9's in every respect.
Bosch LSU 4.9 02 Sensor
The second 02 sensor offering customers can choose when ordering the Spartan 3 Lite wideband from us is the good old Bosch LSU 4.9 17025 02 sensor. The Bosch 4.9 02 sensors have been the industry standard for widebands for some time now, replacing their original 4.2 design, being Bosch you know they are quality. We specifically import these sensors from the USA to here in Australia for these kits, you can be assured they are genuine Bosch wideband oxygen sensors bought from Bosch motorsport in the USA. These are the sensors we used as our standard to achieve when designing & producing our JRP 4.9 LSU sensors, so if you are wanting a big brand name 02 sensor to go along with your wideband and don't mind paying a little more, we have these as an option for when buying your Spartan 3 wideband controller from us.
14Point7 LSU ADV 02 Sensor
The third 02 sensor offering we have is the 14point7 ADV LSU, these are aimed at higher end applications where customers want the very best available. 14point7 manufactures these ADV sensors and use genuine Bosch ADV 02 sensor internals to create a cost effective but extremely robust and blisteringly quick wideband oxygen sensor. This is top of the line oxygen sensor technology and has had some significant improvements to its design compared to the 4.9 02 sensors. They first redesigned the sensing element, the ADV sensors now use a Linear design for the element instead of Radial used on the standard 4.9 sensors, this has some distinct advantages when it comes to response rates, life expectancy and overall toughness of the sensors. The heater design has also been improved for reduced power demand, the sensors are now also less prone to thermal shock which is a major killer of 02 sensors thanks to the redesign of the sensor element. If you want the toughest, fastest responding & most durable 02 sensors for your application, the ADV sensors are the best choice.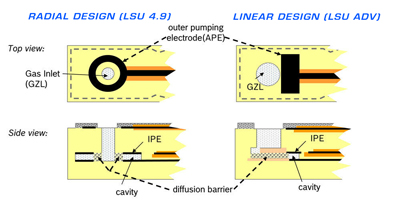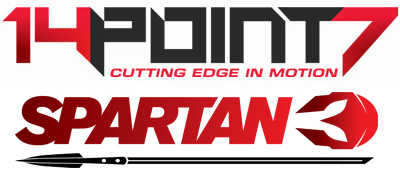 EDGE 52MM LCD AIR FUEL GAUGE
Buddled with this kit is our high quality Edge 52mm LCD air fuel ratio gauge, they have the ability to switch between the standard 10 to 20 AFR readout, and also a 0.68 to 1.36 Lambda reading. The Lambda readout is particularly handy for those who are doing flex fuel, running fuels other than petrol such as e85, methanol or just people that prefer to use Lambda as their readout to AFR.
The JRP Edge 52mm LCD range of gauges are an absolutely stunning gauge design, beautifully finished black alloy body's, thick scratch resistant tempered glass fronts with a modern look without going over the top. The are perfect for pillar pod mounting, or they also come with their own gauge pod which you can place anywhere in the vehicle you wish simply and neatly. The crown jewel of the Edge 52mm LCD gauges is the amazing VA type LCD panels that were developed for these gauges. The LCD panels used in these gauges took over a year in development, they are one of the most clear and easy to read LCD gauges on the market, they are capable of being extremely bright for an LCD using that high quality VA panel, and of course also have brightness adjustment for night time operation. As soon as you see these light up you will know right away these are not your typical LCD gauge, the have an amazing clarity to them. There is nothing about these gauges that looks cheap or boring, and you will see this right away.
They have been named Edge simply because the LCD panel has been able to be made to run almost to the very edge of the gauge creating a seamless and stunning looking air fuel ratio gauge. The gauges are also a 10-colour gauge, allowing you to select from 10 different colours to suit your own personal preference. These gauges are a truly stunning and perfect companion to the Spartan 3 Lite wideband controllers.
0.01 Lambda Accuracy
Apart from build quality, durability and a reasonable cost for the product, accuracy of a wideband controller is paramount, you want to have confidence that the AFR readout you are seeing on the gauge is a true representation of what is going on in your exhaust stream.  14point7 takes extreme pride in the accuracy of their Spartan wideband controllers, and because of the high-quality components used and their extensive factory calibration process each unit goes under, this little unit boasts a 0.01 Lambda or 0.15 AFR accuracy out of the box. 14point7 have been in the wideband game for well over a decade, and when buying and using the Spartan 3 Lite wideband controller you can rest assure that what you see on your gauge is really what is going on with your motors fuelling.
WIDEBAND ANALOG OUTPUT
The Spartan 3 Lite has a high performance wideband 0-5v linear voltage output to send its wideband signal out to gauges, ecu's etc. This output is what sends the air fuel ratio or Lambda data out to your interfacing devices. This is one of the most critical aspects of a wideband controller, as this output carry's the voltage that is going to translate to what the gauge sees and reports as being your air fuel ratio or Lambda values. 14Point7 have stepped up the game on this part of the wideband controller, this output is now handled by an internal 12-bit DAC which is part of the ARM Cortex 4 microcontroller with a tolerance of 0.1% to voltage reference. This high performance analog output is further made incredibly stable & accurate by the dual power design & noise filtering properties of the latest Spartan 3 Lite hardware.
NARROWBAND OUTPUT
In some cases customers installing a wideband controller in their vehicle would like to install the wideband 02 sensor in place of the vehicles factory Narrowband 02 sensor to save having to run two sensors at the same time, or having a second 02 sensor bung installed into their exhaust. To be able to do this without affecting how the factory ECU operates and fuels the vehicle, the signal that was being sent back to the ECU from this factory Narrowband oxygen sensor needs to be replicated.  The Spartan 3 Lite comes with a second analog output which can be used for a simulated 0-1v narrowband signal that can be run back to your vehicles ECU to simulate the same signal the factory 02 sensor would normally provide. This will ensure your vehicle runs as it should after replacing the factory Narrowband 02 sensor with the wideband 02 sensor that comes with this kit.
Monitors 02 Sensor Temp
Another handy feature of the Spartan 3 Lite wideband controller is that it can measure and report 02 sensor temperature, some of you might not know why this can be helpful, so we will explain. It is important when placing your oxygen sensor in your exhaust to not only angle the sensor correctly, but also to place it where the sensor is not exposed to too much or too little heat, getting either of these incorrect can lead to premature failing of the 02 sensor. The Spartan 3 Lite comes with a little LED on the wideband controller itself which will blink slowly if the sensor is too cold, or blink fast if the sensor is too hot or stay solid if 02 sensor temp is optimal. One of the main causes of premature sensor failure is related to improper placement or treatment of the sensors, with this added little feature you can be confident your sensor is running at its optimal running temperature.
ARM Cortex Inside
The Spartan 3 range of wideband controllers have had a major update in the microcontroller side of things, all units in the range are now equipped with a ST Microelectronics ARM Cortex M4. The Microcontroller used on wideband products are important as they are responsible for handling the very time critical computations required for fast response times, analog to digital conversions, features like CAN Bus, being able to flash update the firmware on units, and to a large degree overall how the wideband will perform in the real world. The ARM Cortex M4 is an extremely impressive microcontroller on paper and 14point7 have made use of this powerful little unit to be the heart and soul of the Spartan 3 range of wideband controllers. When buying any of the Spartan 3 range for your application you can rest assured you are getting a unit with an extremely powerful little microcontroller working behind the scenes to bring you one of the fastest, most accurate and durable wideband products on the market today.
Dual Power + Noise Filtering
Another high-end feature that you will find on the Spartan 3 range of wideband controllers is 14point7 has separated both the power & ground circuits for the wideband controller electronics and the 02 sensor heater. There is a dedicated power source required for both the wideband controller electronics & for the oxygen sensor heater. So, with the Spartan 3's there are two +12v power feeds and 2x grounds required when installing. There is a couple of good reasons for this design choice, the major one and was also present on the Spartan 2's in the form of a dedicated ground for the 02 sensor heater is having the second ground has proven to stabilize and reduce overall noise on the outputs which is where your wideband signal comes from when connecting to gauges giving a much more stable and accurate reading coming out of the controller to your interfacing device, such as gauges, ECU's etc. You will find in high end wideband controllers they also run a dual ground setup like the Spartan 3 has and for a good reason. Most other wideband controllers like Innovate, AEM etc do not do this or if they do it is on models at much higher prices, so this is just another reason why the Spartan 3 is a cut above the rest in this price range.
Another good reason for adding the second power source instead of just another ground is now the wideband controller electronics is protected by a 250ma fused circuit, where the 02 sensor heater is protected with a 5A fused circuit. As you can see there is a major difference between the electronics draw and the heater draw. Having the two separated and only allowing a max 250ma draw before a fuse pops on the electronics side is going to go a long way to protecting the wideband circuitry.