| File | Size | |
| --- | --- | --- |
| JRP-Edge-52mm-EGT-Manual-2021.pdf | 1023.89KB | Manuals |
Here we have one of our most popular products, the JRP Edge 52mm digital EGT gauge kit, if you are the owner of a turbo diesel 4x4, or a high performance naturally aspirated vehicle and looking for a high quality gauge to monitor your exhaust gas temperatures, these gauges are an amazing offering. They have a 10-coluor LCD panel which look simply stunning, we also have two different high quality EGT sensors to choose from when ordering this gauge kit, and both are also amazing quality. Both our EGT probe offerings are extremely accurate, fast responding & durable, we go into detail below about the two different sensor options customers can choose from when ordering this gauge kit, and why it's just another one of the many reasons to be seriously considering the Edge 52mm EGT gauges as your solution for monitoring your Diesel or high performance NA vehicles exhaust gas temperatures.
Anyone that has owned an EGT gauges before will know it is hard to find a good gauge that does not cost a fortune and you aren't replacing the sensors all the time due to failures. We here at JRP have been producing and selling EGT sensors since 2017 and have a great deal of experience with the production of great EGT sensors, so when buying our digital EGT gauge kit you can rest assured we have built these gauges tough, there is nothing worse than having to mess around changing over gauges or sensors due to poor quality or inaccurate readings.
These little EGT gauges can also measure and monitor volts on your vehicle, it's possible to setup a warning if voltage levels drop and have the gauges alert you as well, so in reality these gauges are more like a 2in1 than just a standalone EGT gauge. It is also possible and quite simple thanks to our external button controller to switch the gauges from displaying just EGT readings on both the numeric and outer scale readout, to displaying both volts as numeric in the centre of the gauge and EGT on the outer scale if you wish to check what volts is doing. This has been a welcomed feature on these gauges for our customers, as it means it's possible to combine them with our 52mm volts gauge to obtain a dual volts monitoring & warning setup using less gauges. For more information on this, take a read of our Edge 52mm Volts gauge page for more info on how you could use this gauge in conjunction with the volts gauge for a dual voltage monitoring setup.
We have a ton of information below to digest on all the different reasons to consider our EGT gauges for your setup, while there is a lot to read, you can really see we stand behind our products, have put a great deal of thought into almost every aspect of the gauges, their functions, features & quality of included accessories. So take the time to have a read, and if you have any questions feel free to give one of the team a call, email or message on Facebook and we will be happy to assist.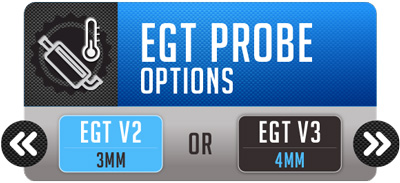 Two EGT Sensor Options
We here at JRP have a strong focus on the turbo Diesel 4x4 customer base, this started before the release of our multi gauge v2 systems in 2018, we made it a priority to offer the best possible EGT sensors for this market without asking customers to pay an arm and a leg. While our v2 multi gauges were in development, we worked on further improving the EGT sensors that we had been supplying with our systems in the past, we developed what we call the JRP EGT v2 sensors and these are out there right now running in thousands of customers vehicles with huge success. But we here at JRP are always looking for ways we can further improve on design or function of our products and we wanted to take things even further, while our EGT v2 sensors are still an amazing little sensor, we knew with a little more money invested in the development and materials we could offer people an even better EGT sensor for just a little extra money. Rather than just drop our EGT v2 sensors and only offer the v3 sensors with our gauge products, which would increase the cost and maybe put the gauges out of reach for some customers, we decided to keep offering all of our gauges with the EGT v2 as standard, but also offer customers the option to upgrade to the JRP EGT v3 if the so wished and budget permitted it. Because the v2 sensors still are a great sensor, we feel this was the best way to go about things. So, when ordering any of our gauge products that have EGT, you have the option of getting them with the good old v2's, or the option to pay a little more to upgrade to the latest v3 sensors. Below we give a little more info on the difference between the two sensors, and you can make your choice when adding to cart which EGT sensor you would like shipped with your gauge. We also have a couple of photos listed up which shows a comparison between the two sensors if you would like to visually see the differences.
V2 EGT - SS 3030 3mm
As we mentioned above, these are our JRP EGT v2 sensor that we developed before the launch of the v2 multi gauge back in 2018, they are a rock solid little sensor that will serve most Diesel guys and are tried and tested with great success over the years. As we also mentioned, these are the same sensors out there running in thousands of customers vehicles that have bought our gauge products since 2018 and have been met with huge praise and is one of the reasons our gauges are so popular with the Diesel guys is because of the known quality and reliability found with the EGT sensors we supply. The v2 are the sensors that come with these EGT gauges as standard with no extra money needing to be paid. The JRP EGT v2 sensor is constructed of high quality 3030 stainless steel with a probe thickness of 3mm, the induction points inside the probes are shielded to make sure no external grounds can be picked up by the sensors to interfere with readings, they use multi-core wire as opposed to single core, a lot of EGT products in the price range of our systems use single core wires, single core wires are inferior with handling vibration which can be one of the leading causes of sensor failure, so again our v2 EGT sensors have this covered by using quality multi core wire all the way. They also have Deutsch plug on the end of the sensor for easy access, and all wires are heat shielded. If you don't have a history of hammering EGT sensors, these standard v2 sensors are still a terrific choice. For Diesel guys that give EGT sensors a hammering, wanting to install pre-turbo, or are looking for the best sensor possible to be running with our gauges, you might want to consider our v3 sensor upgrade which really isn't that much more money. If you run a very lean NA performance petrol car which traditionally run very high EGT's, you also may want to consider our v3 sensors.
V3 EGT - SS 2520 4mm
Over the years of selling products that utilize EGT sensors, we have learnt a few things. With thousands of vehicles now running our EGT sensors, we have gathered a lot of real world feedback and data on what makes a sensor great, and data on what makes them not so great. With that knowledge in hand, we set out to produce an improved version of our v2 EGT sensors, and we have managed to do just that, we are proud to offer these improved sensors as an upgrade option which we call the JRP EGT v3 sensor.  These v3 models have all the main fundamentals of the v2 EGT sensors, but have been upgraded in area's we think are of importance. For starters the gauge wire used on these sensors is a couple of levels up to better handle excessive vibration, like the v2 sensors we have made sure to use high quality multi core wire and paid extra attention to perfect crimping. The induction points inside the probe itself are shielded to make sure there can never be any issues with external grounds making their way into the sensors to cause incorrect readings. The probe body itself is made from 2520 stainless steel, the decision to use 2520 over 3030 was one our engineer decided on after reviewing a few factors, the actual thickness of the probe shaft itself has been increased to 4mm, as well as the actual thickness of the metal protecting the induction point inside and will offer better durability and longevity. The probe shape and design has also been improved, tapering down from the top to the tip. The response rates on the v3's is also an improvement over our older v2's, not that our old v2's was sluggish by any means, but as we mentioned above, we were really shooting for an EGT sensor a couple of steps up from our v2, but again without them costing a fortune like some other high end brands. Reports from our workshop & dyno customers who beta tested the v3 probes for us was, that there was a noticeable difference in response rates, the v3's are much snappier with reporting changes in exhaust gas temps with larger changes in throttle or on deacceleration.
So with that information in hand, no matter which way you go here you have the choice of two great EGT sensors, if you are on a budget we have you covered, or if you have a history of giving EGT sensors a hammering and want the fastest most accurate responding EGT sensor we could muster up with our years of experience, you have the option to upgrade this gauge kit to the JRP EGT v3. We really recommend the v3 sensors for any customer that is running a NA performance car that see's 800-950c temps a lot of the time, and for Diesel guys that have a history of giving EGT sensors a hard time, wanting the best possible response rates, or wanting to install pre-turbo. Considering the cost to upgrade really isn't much more, even if you don't fall into those category's we mentioned and if your budget permits, we of course would lean towards saying grab the v3 for the best EGT gauge setup.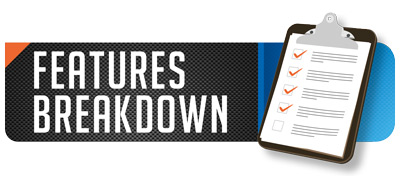 EGT Readout 0-1000C
Volts Readout
Configurable Warnings For EGT & Volts
Peak Values For EGT & Volts
10-Colour Selectable LCD
3 Selectable Opening & Closing Ceremonies
Display Modes / EGT Only / EGT + Volts
3 EGT Outer Ring Scaling Type Selections
Day & Night Brightness Settings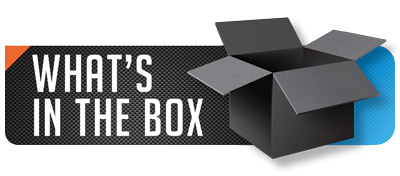 52mm Edge Digital EGT Gauge
52mm Gauge Pod
U-Bracket Pillar Mounting Kit
3M 1/8 NPT Multi-Core EGT Sensor
1M Remote Button Controller
1.5M Power Cable
20cm Power Link Cable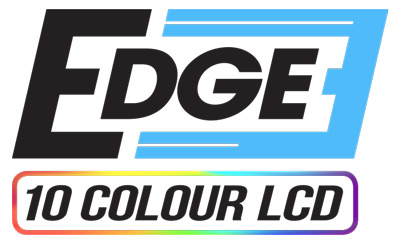 AMAZING LCD DISPLAYS
The crown jewel of the Edge 52mm digital EGT gauge is their amazing VA type LCD panels that were developed just for these gauges. As soon as you see them light up you will know right away these are not your typical LCD gauge, they have an amazing clarity & brightness to them.
The LCD panels used in the JRP Edge range of gauges took over a year in development process, they are a high end VA type panel which allows for superior viewing angles and brightness, the first thing you will notice about the JRP Edge gauges is how they can be viewed quite clearly on both on & off angle viewing, one of the shortfalls of LCD is as you view them off angle their brightness and clarity reduce, the JRP Edge have some of the best off angle viewing of any LCD gauge on the market today.
They have a brightness of 600nit which is also terrific, daytime viewing on some LCD gauges can be a little poor due to lack of brightness, this is not the case with the Edge range of gauges, and they are clear and easy to read in almost any condition. Also having such a large number of selectable display colours means it will be much easier to match factory instrument clusters for those customers who want to maintain a consistent look in their cabin.
 
High End Build Quality
The Edge range of gauges have a robust design, the body of the gauges are a tough light weight alloy finished in a polished black look which gives them a nice contemporary look which will suit almost any application. Most customers buying these gauges are for off-roading in their Diesel 4x4's, they need to be tough. These gauges also use a thick single piece scratch proof tempered glass panel in front of the LCD screen which slightly protrudes from the gauge itself for an awesome look that just screams quality. There is nothing worse than gauges that just look cheap, and the last thing the Edge range does is look cheap, they have a modern look which is also supported by quality housing and glass which just gives them that overall feel and look of quality.
 
SINGLE POWER INSTALL
All of our Edge 52mm digital EGT gauges have the Power Link feature and cable included, this is a simple way to provide power to more than one gauge with just a single link cable running from the primary gauge to any additional gauges. This is to save having to run multiple power looms for each gauge you have installed and reduced the soldering / crimping of power looms down to just the primary gauge itself. For any additional gauges you want to install, it is just a case of running a power link cable from one gauge to the next. It is a pretty simple concept, but definitely makes installing 3 or 4 gauges a much quicker and neater process having the feature be on the gauges.
REMOTE CONTROL
While the gauges themselves have a single button on the gauge body itself which is used for making changes to the gauges settings, such as colour selection, warning values, viewing or clearing peak values, each Edge 52mm EGT gauge comes with an external cabled button controller which can be installed somewhere tucked away in the cabin for making changes to the gauges settings after installation without having to remove the gauge from its housing to make the changes. Just simply connect our little button controller to the gauge and install somewhere easy to access, be it hidden away, or you can install it into your dash for the race look. Most diesel 4wd guys will go for the pillar mount install, so this feature will be really handy as removal of the gauges to change the settings isn't so simple. Updating the gauges warning settings, changing colours, viewing or resetting peak values will no longer be a hassle at all.
WARNINGS & PEAK VALUES
All the Edge range of 52mm gauges have the ability to setup user definable warnings on the gauges, it's an important part of any decent gauge solution for users to be able to configure their own warning values, and the Edge 52mm digital EGT gauges have this covered. Keeping an eye on EGT readings with any turbo diesel vehicle, be it off-road or on-road towing is hugely important, as is being alerted when temps exceed normal operating parameters. So just simply setup a temperature warning that if ever exceeded the gauges built in buzzer that will alert you a warning has been triggered and you will never miss a running hot condition ever again. It's also possible with this model to setup a warning for volts as well, as these gauges not only monitor EGT's but also volts as well. And last but not least, another feature some customers also may find useful is, these gauges are able to record peak temperatures, this will enable you to review after a drive what were the highest temps seen by the gauge at any one time. You can easily clear the peak recording before a drive to clear the last drives peak temps that were recorded.